DNA Learning and Development Inc. provides customized learning solutions. We specialize in instructional and curriculum design focused on meeting your specific training needs. Through interviews and needs analysis, we will determine how to best meet your needs using a variety of training delivery methods including printed materials, eLearning and face to face training.
We also provide off the shelf solutions for selling skills that will have your sales representatives making more of an impact with your customers : EPIC Selling™ and SCAN Strategic Needs Analysis™.
PRODUCTS
EPIC Selling™ is a foundational sales model designed based on years of sales experience. It combines ideas that have been proven successful into a simple to follow process. EPIC selling is based on finding common ground to engage your customer into an effective selling discussion.
SCAN Strategic Needs Analysis™ is an advanced program designed to elevate your typical needs assessment to a higher level. It takes the basic idea of asking questions and creating conversation to strategically build emotion around the need being identified. This emotion serves to drive customer behavior change and move more of your calls to successful sales interactions.
WHO WE ARE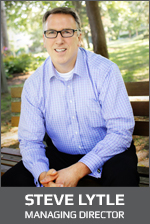 Steve Lytle brings a wealth of experience to the table in the multifaceted area of learning and development. After beginning his career as a Sales Representative, Steve moved up to Field Sales Training providing ongoing support to District Sales Managers and their teams. After moving to a head office role, Steve designed and implemented training for flagship brands including creating launch programs. Steve became the local champion for a global sales model and in this role was recognized globally for his work on a short call sales model that changed the way representatives approached selling in the pharmaceutical space. Steve leveraged this success and experience to lead training departments both in the field and within the office. Steve has recently decided to share his experience widely becoming an independent Learning and Development Consultant.
Steve founded DNA Learning and Development Inc. to support the training needs of pharmaceutical companies globally. Focusing primarily in skills development, DNA Learning and Development helps clients reach their objectives through exceptional custom designed programs.
To contact Steve click here.